Artifactory Connector Settings Reference
Harness supports both cloud and on-prem versions of Artifactory.
This topic provides settings and permissions for the Artifactory Connector.
In this topic:
Artifactory Permissions
Make sure the following permissions are granted to the user:
Privileged User is required to access API, whether Anonymous or a specific username (username and passwords are not mandatory).
Read permission to all Repositories.
If used as a Docker Repo, user needs:
List images and tags
Pull images
See Managing Permissions: JFrog Artifactory User Guide.
Artifactory URL
Enter in your base URL followed by your module name.
For most artifacts, use https://mycompany.jfrog.io/module_name.
In some cases, you can use https://server_name/artifactory/module_name.
The URL really depends on how you have set up Artifactory, and whether it is local, virtual, remote, or behind a proxy.
To ensure you use the correct URL, copy it from your Artifactory settings.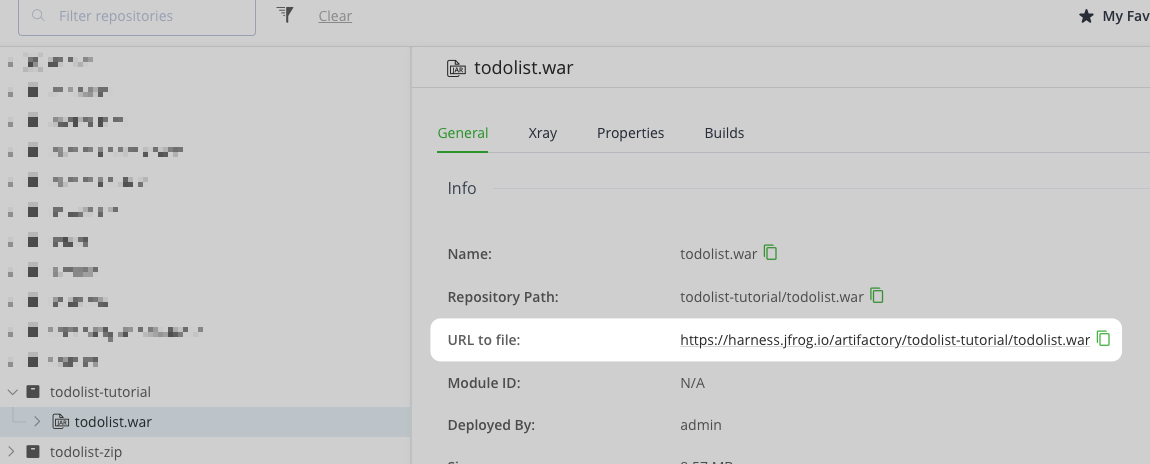 See Repository Management from JFrog.
Username
Username for the Artifactory account user.
Password
Select or create a new Harness Encrypted Text secret.
---
---