Connect to Jira
You can connect Harness to Jira using a Harness Jira Connector. This Connector allows you to create and update Jira issues, and to use Jira issues in Approval steps.
In this topic:
Before You Begin
Limitations
Your Jira REST API account must have permissions to create and edit issues in the relevant Jira projects. The Administer Jira permission includes all relevant permissions (as does the Administrator or Member permission on Jira next-gen).
For details, see Atlassian's documentation on Operation Permissions, Issues, and Managing Project Permissions.
Step: Add Jira Connector
You can add a Jira Connector at the Project, Org, or Account level. We'll cover Projects here. The process is the same for Org and Account.
You can also add the Jira Connector when setting up the Jira Create, Jira Approval, or Jira Update steps. We'll cover adding it to the Project's Connectors here.
Open a Harness Project.
In Project Setup, click Connectors.
Click New Connector, and then click Jira. The Jira Connector settings appear.
In Name, enter a name for this connection. You will use this name to select this connection in Jira steps.
Click Continue.
In URL, enter the base URL by which your users access your Jira applications. For example: https://mycompany.atlassian.net.
In Jira, the base URL is set to the same URL that Web browsers use to view your Jira instance. For details, see 
Configuring the Base URL
 from Atlassian.
Enter your credentials. For API Key, use a Harness Text Secret. See Manage API tokens for your Atlassian account from Atlassian.
Click Continue.
Select the Harness Delegate(s) to use when making a connection to Jira using this Connector.
Click Save and Continue.
Harness tests the connection.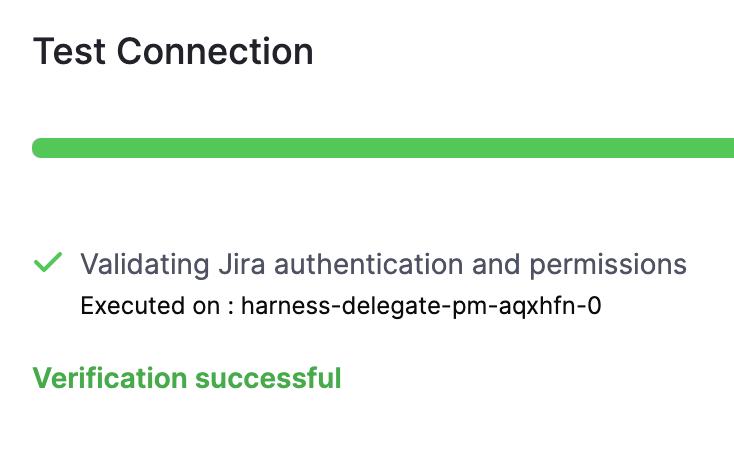 Click Finish.
The Jira Connector is listed in Connectors.
See Also
---
---